I moved to Berkeley in 1989 and discovered a game store called
Games of Berkeley
, located near the corner of Shattuck & University Avenue--at the edge of the downtown drag in Berkeley.
I was neither particularly impressed nor particularly unimpressed with GoB when I first arrived. It seemed about on par with the game stores that I'd frequented before I went away to college. They got the newest products in promptly and had a decent depth of back stock. I mostly bought roleplaying games at the time, but I'm sure GoB had a decent selection of the Avalon Hill and Milton Bradley board games which were common at the time. And I know that they had an overdecent selection of science-fiction books, puzzles, and kites. (Yes, kites. Lots of them.)
What I didn't know was that
Games of Berkeley
had been purchased by the
Game Gallery
chain of stores shortly before my arrival in Berkeley and for the next 10+ years I saw a store where I'd once been able to actually buy gaming items slowly deteriorate. In 1991 I moved to just around the corner from GoB, and that was a good thing. GoB's ordering policy had gotten so bad by this point that if you didn't stop in the store on the day a new roleplaying product arrived you were likely to miss the initial shipment, and then odds were about 50/50 that the staff would never figure out how to reorder the book.
In 2002 I started buying games again after a several year hiatus. I'd never unlearned my GoB habit, but as I soon learned they'd gotten worse, not better, in the time I'd been less involved with the hobby. After a frustrating three to four months where I made one or two dozen trips to
Games of Berkeley
before I was able to get all six of the core
Settlers of Catan
games, I finally threw up my hands in disgust.
I knew, for utterly unknown reasons, that I was supposed to support my local store, but I couldn't see why I should keep throwing my money at them when they did everything they could
not
to serve me. Not only did they have bad ordering practices and bad reordering practices, but their staff had gotten increasingly aloof, unhelpful, and unprofessional. So, I ventured into the mysteries of funagain.com and timewellspent.org. And it was good. Gaming bounty was mine, with friendly staff & in-stock items.
And the discounts,
oh the discounts
... Do I hear a 20%? How about a 25%? Can I get a 40%?
Hallelujah!
I could buy so many games, even on a constantly tightening budget.
Locally Owned v. Local Stores
At the time I took this as a referendum against local stores which offered me nothing special, and charged higher prices for the privilege. Really, though, it was a referendum against chain stores, even small ones like
Game Gallery
. They're dens of mediocrity. They set up standards of business practice to minimize their costs, and in doing so ensure that no individual store actually operates well.
After the fact (
Games of Berkeley
since having been bought out by an independent owner) I learned that that senseless policies were being handed down to GoB by corporate higher-ups. For example each store had limits to how much they could spend on products each month, and these limits had nothing to do with sell-through rates or restocking, or whatnot. They got $XX,XXX to spend each month, period, and if they didn't spend it on the newest
Magic: The Gathering
, they were toast, hence the minimalist ordering policies.
This all brings me to the first point that I want to make in this article: local stores versus locally owned stores.
Games of Berkeley
in that time period was a local store, but it wasn't locally owned. It was a great contrast to
Comic Relief
, my favorite comic store for the last 14 years, which always has great staff, great selection, and a friendly atmosphere. It's got a great owner too, Rory Root, and his presence, enthusiasm, and love for the field makes all the difference, turning
Comic Relief
into a place that I enjoy and want to visit, as opposed to
Games of Berkeley
which was a source of frustration and annoyance for those many years.
In late 2004 I started visiting a new game store,
EndGame
. It was down in Oakland, several BART stations away, but I'd been looking to expand my gaming horizons past my Thursday night review games, where I got to play each game just once or twice, and I'd learned that EndGame had a regular game night on Wednesdays.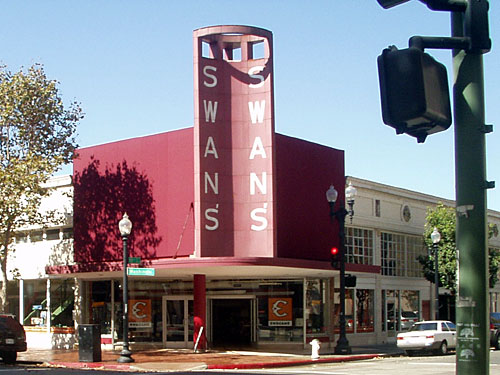 EndGame
was such a breath of fresh air, because it was not just local, but locally owned. Their gaming area was a beautiful mezzanine that overlooked the store. It was spacious and full of tables. And gamers.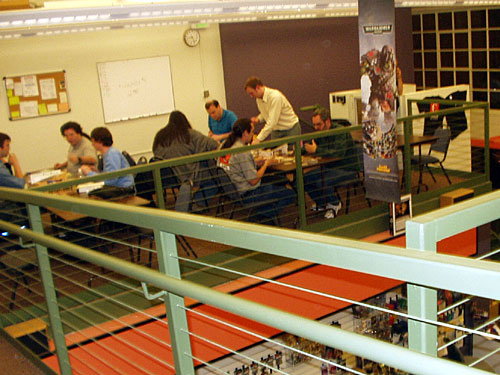 The store itself was nice too. They don't order everything, but they actually order with intelligence and forethought. Because they're local owners who are familiar with the hobbies that they serve, they're also familiar with which items their customers will actually like. So, for example, they ordered
Farfalia
, an interesting trick-taking game, but not the other three daVinci Games released at the same time (
Abracadabra
,
Moby Pick
, and
Mr. Bill
), all kinda so-so kids' games.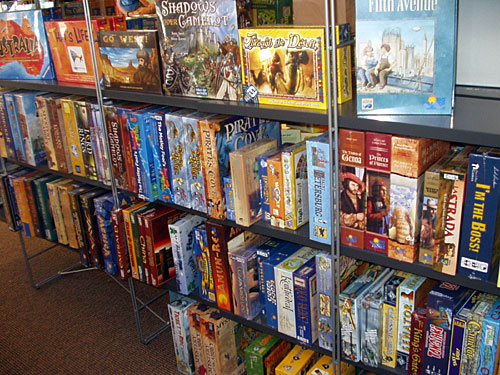 After I'd attended
EndGame
for a few months, and it was obvious that it'd become a regular part of my routine, I gave up my online ordering, except for imported items (which
EndGame
doesn't carry because they can't make a profit on them). It's been a tough struggle, and it's a confusing one bounded by questions of ethics and morality. Money is tight, and so I have troubles affording the games I want now that I'm paying retail, but to date I've avoided the siren call of discounters since I started EndGaming. And, unlike that strange, reasonless loyalty that I once felt to
Games of Berkeley
, I now understand why.
Ethics, Morality & Economy
In short, you shouldn't have blind loyalty to local stores, nor even to locally owned stores. Instead you should reward stores that provide you with services that you desire and need.
EndGame
provides me with a few very important services. The most important is their gaming area. I'm there just about every Wednesday, from 6.30pm to 10.30pm or so. I get to play lots of games I really like from my own collection, and I also get to play brand-new or older games that I don't own (and often couldn't afford due to expensive secondary mearkets). I have a guaranteed set of opponents every week. (EndGame often has 20-25 people at the height of an evening.) And, I can do all this gaming without having to clean my own house before-hand or afterward (let alone the fact that my old Arts & Crafts era house doesn't have any rooms big enough for gaming to ever be truly spacious, like it is at EndGame).
Beyond that, EndGame gives me the benefits I'd expect of a good gaming
store
: good stocking policies, good restocking, and friendly, knowledgeable staff. They also have a used game section, which I've never actually partaken of, but which I really appreciate in a game store. I used to travel out to
Gamescape
in San Francisco (by bus!), just to browse their used games, so I hope to eventually come across some things I want here.
There's no doubt in my mind that I "desire and need" the services that EndGame offers. However, unfortunately this becomes a question of economics & morality for everyone who visits the store.
The question of economics is obvious. I used to buy almost all my games from timewellspent, where I'd get about a 35% discount on average. By saving up for huge orders (an inconvenience in itself) I probably ended up paying 30% off even after shipping. That's an extra game for every two purchased, which is pretty hard to argue with when you're already short on money.
Conversely,
EndGame
doesn't (and probably couldn't) charge for the services that I actually use and enjoy--most notably, the gaming. That's where the ethics come in. I have to make the moral jump to rewarding EndGame for the free service that they offer (gaming) by purchasing my games through them.
On the one hand, it's an obvious answer: if I (and others) didn't buy their games, then they wouldn't have the store, and thus I wouldn't have the gaming space. On the other hand, because there's no direct link between the two I could "get away" with buying all my games from discounters, and just bringing them to
EndGame
to play.
(Ironically there's a game that makes this exact question of community v. personal good its main point. It's
Terra
, by Bruno Faidutti, and though I didn't think it made a particularly good game, it was a thought-provoking one. The dilemma, by the by, is called "Olson's Paradox", and Faidutti describes it well
at his website
.)
We all have to make our choice on that type of morality, but I think it's important to frame the dilemma as such. It's not just a question of getting your games cheaply, but rather if your local (and probably locally owned) game store provides services that you want to continue, and if you should thus support them in the way they make available--through game purchases.
Additional Economics
What I've mentioned thus far is the question of
personal
economics and morality, but whether you support a locally owned store can actually be a bigger topic than that, because there's also questions of
community
economics and morality. In other words, you can improve your community by shopping at a locally owned store--but again it's a question of whether you're willing to put your own money out to do so.
There's a few ways in which locally owned stores can support your community.
First, there's a general understanding (though not necessarily a consensus) that brick-and-mortar stores help spread a hobby. The idea is, that if people can come into a local store that's bright, well-lit, clean, and has friendly staff, then they'll be more inclined to make a purchase, and possibly enter the field through a gateway item. If all sales are done online, the argument goes, then this avenue of attracting new people to a genre won't exist, because people are much less likely to wander through a random website than through a random store that caught their eye.
I say there's not consensus on this topic because over on the roleplaying side of things there are constant nay-sayers who claim that brick-and-mortar stores just aren't necessary. These people are increasingly making their sales through PDFs and other online formats, which disallow brick-and-mortar stores from being a possibility. Personally, I think these peoples' "success" speaks for itself; former autoships of 1500-3000 books for a mid-level roleplaying publisher are turning into first-month sales of 50-200 books for a top-level PDF publisher. If the core industry can't even be bothered, how could new people ever be brought in?
So I'll stick with the statement that a locally owned store, with an actual storefront
will
bring new people into our industry. And, I think I saw ample evidence of this just last night, when I saw someone wander into
EndGame
while I was playing, and later wander out with
Shadows over Camelot
and
Bohnanza
, two gateway games if I ever saw them.
Second, besides supporting the gaming community, locally owned stores can actually support your local community too. Book stores are another segment that is really feeling the squeeze from online sellers, and one of our local book stores has the following flyers in their window as a result:
So, besides supporting whatever good stocking, good staffing, and gaming that your locally owned store allows, shopping there can also support your hobby and your local community.
You don't have to offer that support.
You can just assume that someone else will do it, and it'll be enough to keep your local stores going for when
you
need them.
But shouldn't you be that someone else?
EndGame:
http://www.endgameoakland.com
Comic Relief:
http://www.comicrelief.net/